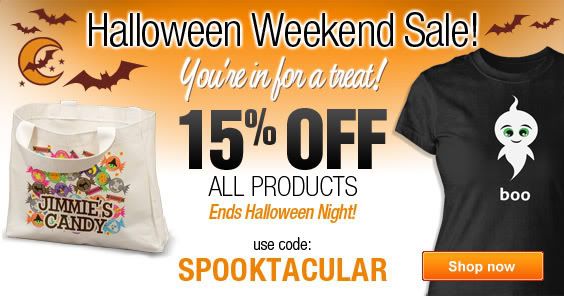 15% Off All Products Sale!
ENDS October 31st !
Use Code: SPOOKTACULAR
at checkout in the "Zazzle Coupons/Gift Certificates" box
Stand out from the Crowd with Mind Design Grafx™ Fashionable, Hip designs. T-shirts.. Sweatshirts.. Hoodies and more. Fashions for Men .. Women .. Teens .. kids... toddlers. Over 250 choices of apparel alone. Plus, Invitations, Cards, Magnets, Posters, Stickers, Hats, Gift Bags, Buttons, keychains. Posters, Mouse Pads, Mugs and more. You can be confident in buying from Mind Design Grafx™ with our 30 day money back guarantee. Top quality designer products at great prices. Over 250 choices of apparel alone.
* 15% of the Zazzle product net sale price will be deducted when one or more qualifying products are purchased and the coupon code SPOOKTACULAR is applied at checkout. The net sale price is the price of the product (excluding shipping and taxes). For Zazzle Custom Stamps, the net sale price is the difference between the price of the Zazzle Custom Stamps (excluding shipping and taxes) and the face value of the postage. Offer is valid until October 31, 2011 at 11:59pm PT. This offer does not apply to past purchases and may not be combined with any other Zazzle promotional or volume discount offers. If a volume discount applies to your order, you will receive either the discount set forth in this offer or the standard volume discount, whichever is greater. Offer valid on Zazzle.com only.